Playful Hands Crèche in
Yelahanka New Town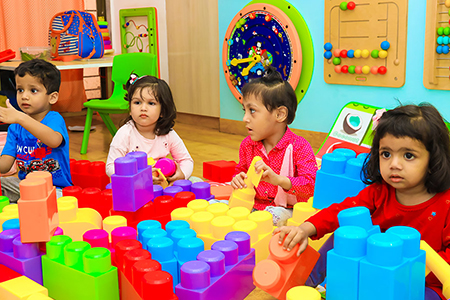 Playful Hands offers a best daycare program for toddlers and kids. This initiative was started as a result of the exploration of a child's needs and their ability to mingle with others. It is also very convenient for working parents or parents who are not at home majority of the time, hence, may leave their child with us and continue with their tasks.
Regular
Day Care Program
Playful Hands offers a daycare service in Yelahanka New Town for children ranging in age from 1.5 to 5.5 years. We provide a loving environment in which the kid feels at home even when they are away from home. At Playful Hands, a great focus is placed on the child's basic needs: growth, wellness, and protection. Eating and napping cycles are interspersed with experiential teaching and playing on a daily basis. This session is open to both Playful Hands students and other kids. Parents can either use the daycare after school or during designated times as needed. The daycare program was created to give a resource for parents who want to know that their child is secure and relaxed while they are at work. It enables women to return to work without jeopardizing the level of care and affection provided to their children. We make certain that children may develop and improve in a pleasant, clean, and supportive environment.
Emergency
Day Care program
Have you ever been in a scenario where you were meant to go out for a few hours a day but it came up unexpectedly? Have you ever considered what you would do if you had a toddler at home? This necessitates the use of Playful Hands' emergency day care program. This is why this program was designed: so that parents who are periodically scheduled to work may leave us with their children and return to their jobs with peace of mind.
Children will be accepted into a secure and friendly atmosphere. Playful hands creche in Yelahanka New Town will give a lovely play experience for youngsters while also allowing them to have a good time.
Activities
in Day Care
1.5 to 3 years - grip-enhancing activities.
3 to 5 years - gross skills enhancement activities.
For above 5 years - assignment assistance and free playtime.
Timings : 8:30 am to 7:00 pm
Days : Monday to Saturday