Scholars
(3.5 - 4.5 years)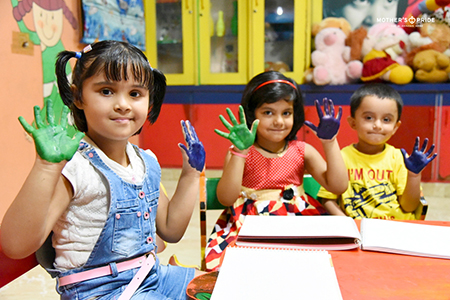 We think that children should be nurtured with love and care. We believe in making childhood a memorable experience. Our goal is to bring out hidden personalities and develop them into future leaders. Children at this age must focus on eye-hand coordination in order to improve their writing abilities. At Playful Hands Pre-School, we recognize each child's developing talents and work with them to improve their expertise correspondingly.
Our program's major focus is to construct vocabulary and allocate concepts that the students have learned at that point. Children will acquire fundamental skills utilizing cutting-edge learning methodologies and resources built specifically for this age group.
Communication
& Numerical Development
Here, the child is able to appropriately frame words and attempt to communicate their requirements through speech. This is the period at which the child actively begins conversing with others and polishing their language skills. The kid is able to recite numbers and also count perfectly to a certain extent. They can also count objects around them at this stage.
Highlights
Suitably structure their words and make an effort to describe their needs through speaking.
Starts speaking with others and refining their linguistic competence.
Capable of reciting numbers and counting to a certain amount.
Social
& Physical Development
At this age, children make friends and have established their social group. Because they spend so much time together, they are able to share and care for their pals. The child has good motor skills and also at this high level of participation in physical activities such as catching the ball, playing tag, hide & seek, and so on.
Highlights
Children make pals and have formed social relationships.
They may share and care for their friends.
Good motor skills and excellent hand-eye coordination.
Knowledge
& Individual Development
Here, the children formally reach a state in which they are watched and graded depending on their academic achievement. At this point, the child can write and pronounce alphabets, numerals, and two-letter words, among other things. At this point, the child begins to create his identity. They may recognize principles and begin to follow them. They prioritize what they are instructed and begin to work for it.
Highlights
The infant begins to form his own individuality.
Emphasize what they are told and go to work on it.
Children formally reach a point where they are observed and assessed based on their academic performance.