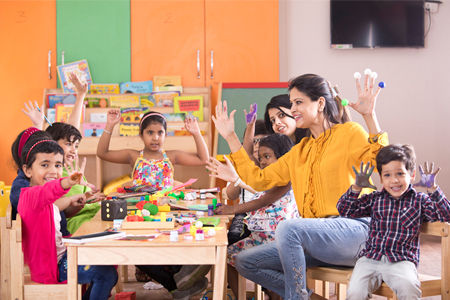 We at Playful Hands give the highest priority to the well-being, security, and holistic upbringing of all our children admitted here. We have the best infrastructure and well-knowledged staff for attending to the timely needs of our children. Students here have a childhood filled with fun, frolic, and laughter along with the knowledge of basic concepts.
01
Child-friendly Atmosphere
Playful Hands is located in a well secure and spacious environment which facilitates the kids to run around, jump, climb all around the campus itself. There are also designated classrooms, a play space, and a nap room depending on the schedule of the child, as the child's protection is of the highest priority here.
02
Skilled Staff
When it comes to looking after and taking on the duties of our little tots, we have a competent team on hand. Our teachers are pleasant and compassionate, making the toddler feel at ease. We have non-teaching personnel who have a friendly attitude towards the children and who are also there to assist the instructors in meeting each and every requirement of a child.
03
Activity-based Learning
A day's routine is filled with interactive learning activities that encourage kids to engage in their own educational experience via self-exploration and conflict. Some of the activities we propose include using real-time items while learning, having a theme for a day every week, displaying films of pivotal moments that they can understand, and so on.
04
Extracurricular Activities
We at Playful Hands believe that "all work and no play makes Jack a dull boy." As a result, we constantly make certain that a child is given the opportunity to develop an active interest in cultural events, sports, art and craft, music and so on. This is the age when a child finds his or her own capabilities and weaknesses, and we guarantee you that we will be present throughout the child's progressing phase.
05
Digitally Enabled Campus
In this day and age, where technology is so important, we at Playful Hands make certain that our classrooms are digitalized. We offer a safe campus with CCTV cameras, smart classroom amenities, speakers, and so forth. Our website will have updates on the activities done at school and the parents can get to see how their children are spending their time here.
06
Teacher-student Ratio
Every child at this age needs undivided attention and this is a time period of their life where they are supposed to be observed on a regular basis. To satisfy this need, we have a teacher-student ratio wherein we are giving 10 students under the supervision of a single teacher. Due to this, each student will get the required amount of attention that is highly recommended for this age.